I can't believe it is week 3 of school! I'm going to rewind back to the first week of school where we had a little teddy fun... BYOT-Bring Your Own Teddy. Because anytime you have BYO something on a Friday it has to be fun, right? The first Friday of school is always Teddy Bear Day for first graders at my school. I swear they've been doing it since Teddy Roosevelt! I love a good teddy bear day on the first week because you can make almost any activity teddy bear themed. Some of my activities from over the years were looking a little dated, so I decided to spice them up and add some new ones. How in the world did we ever teach before fun fonts and clip art?!?!
First graders sometimes seem so grown up so it is always sweet to see them get soooooo excited about bringing their stuffie to school. Seeing them snuggled up to their bears reading always melts my teacher heart.
Teddy Bear introductions are great for oral language! We wrote about our teddy bears and made a class book.
We also worked on describing words to tell about our bears. Large bear diecuts worked perfectly for this activity. (On a side note-if you cut the ears off they make a great gingerbread man!)
I'm pretty sure there isn't a primary teacher without a stash of bear books! We read a few classics like Corduroy and Brown Bear and also added a few new favorites. My kids and I always enjoy
"The Forgetful Bears" by Larry Weinberg.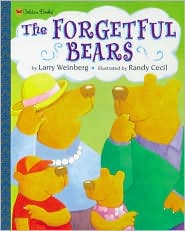 We tied math into our teddy bear day by measuring, weighing, and sorting our teddy bears. We also ordered teddy bears by size.
One of the hits of the day was Roll and Color. I made simple color dice by sticking colored dots on wooden cubes. The kids rolled one color die and one regular die and colored the number of bears that color on their sheet.
Another dice hit was Roll & Draw a teddy bear. I projected the key on the board and students played in pairs to roll and draw the correct bear part.
The teddy bears had a picnic in the classroom while we were at lunch. Our BYOT day ended with a first grade teddy bear parade down our hall. They kids were SO EXCITED to see their friends with their bears. What an awesome way to end the first week!
If you want to have your own BYOT day check out my
BYOT Teddy Bear Day
packet. There are a few more activities I've done throughout the years included such as gummy bear graphing, making words, roll & add as well as graphic organizers, letters and awards.
Be sure to check back on the blog this weekend for "An Apple for the Teacher" blog hop with some great ideas, freebies, and giveaways!